Every year, holidaymakers come to Giffre Valley. What an adventure to go to the mountains in the winter for a family holiday! To ensure your holiday is a successful one, you need good organisation and the necessary knowledge of this rather particular environment. We asked Céline and Fred, the "Petits Baroudeurs", experts in mini adventures with young children in the great outdoors, to give us some advice.
Make sure you take into account the practical details, especially about the right ski clothing to bring for children, to ensure the whole family has a great time.
So here is their advice to really have a fantastic holiday with your mini adventurers!
Layered clothing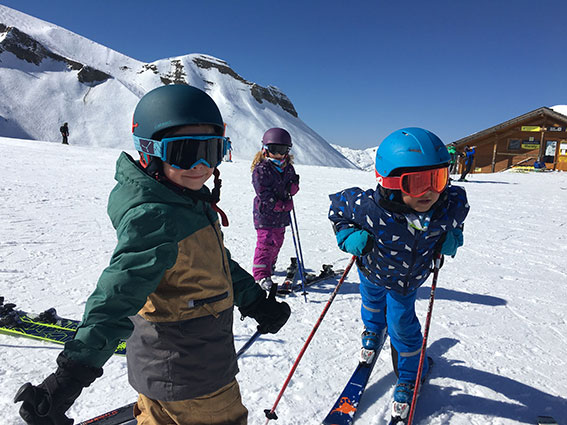 For maximum efficiency, choose layered clothing.
The system of three layers has been proven to work, each layer with a specific function and an "air cushion" between layers, acting as an insulator.
The first layer is in direct contact with the skin and so should be soft and breathable.
We would go for synthentic technical undergarments or – the very best – a natural one, made from merino wool for example (more efficient and anti-bacterial).
The middle layer provides warmth. The thickness depends on the external temperature: the fleece will be thicker in January than in March. It is important that this item of clothing allows for optimal freedom of movement when worn under a jacket.
The jacket is the third layer. It must be breathable (to release moisture) and it should especially be chosen for its protection against wind and rain. Therefore, you should choose a jacket which is fully waterproof.
Manufacturers speak in mm when talking about water-resistance, check that the jacket has 5,000 mm minimum to guarantee you'll stay dry.
Salopette or trousers + jacket?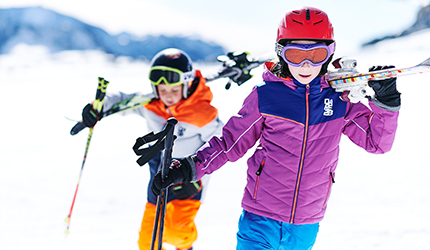 For the little ones, an all-in-one ski suit is the best possible choice. It provides maximum comfort and protection.
Not-to-mention that the children look like cute little bears in these ski suits and make for great holiday photos!
However, the trouser-jacket combination is becoming more popular because it's much more practical for going to the toilet and easier to mix and match.
Even more so when the two separate items can sometimes be zipped together, for optimal insulation.
For the trousers, many models come with elastic around the ankles to place under the shoes, to ensure they stay in place during activities.
Finally, whatever you decide, the most important thing is to make sure it is waterproof!
Well-protected extremities = happy children!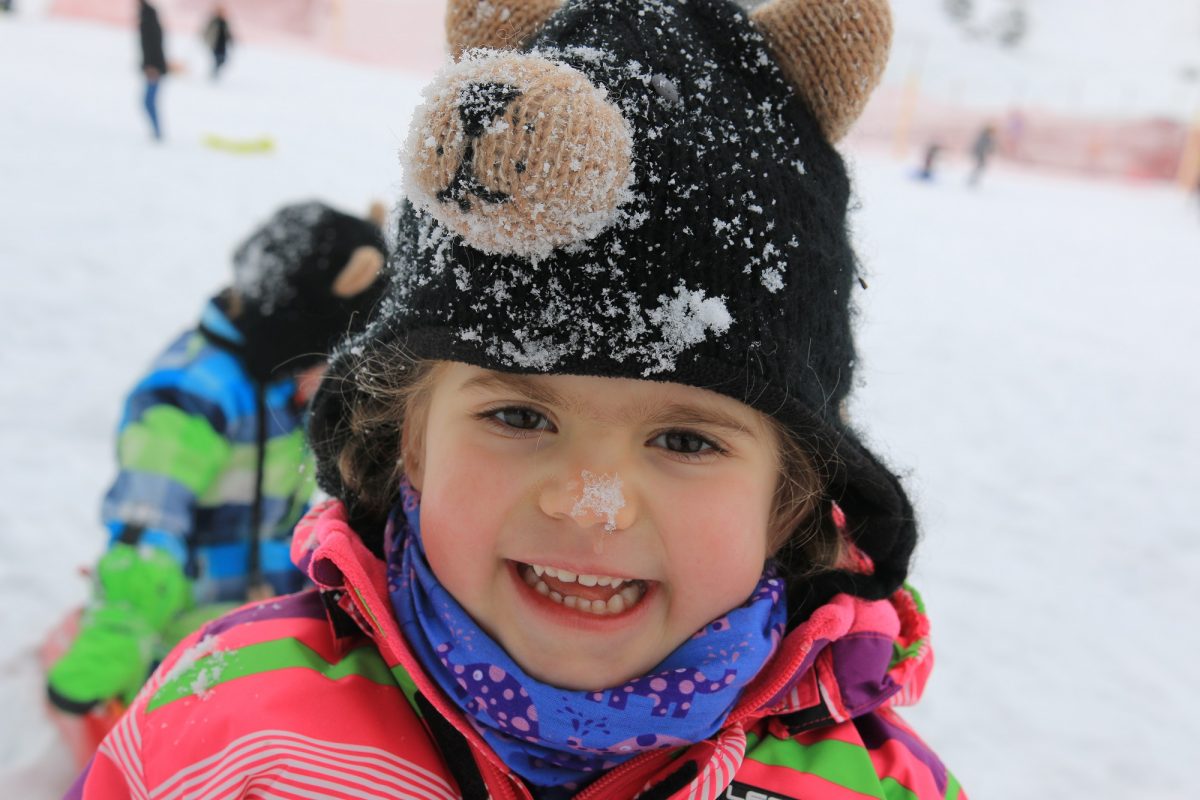 Make sure the head, hands and feet are well-protected because that's where all the heat escapes.
With regards headgear, a helmet is compulsory for skiing or snowboarding. There are light cagoules available for added warmth when it's very cold.
Don't forget the trusty woolly hat (often lined with fleece around the ears for extra comfort) for other activities.
Hands will stay nice and warm with gloves or mittens. Mittens provide optimal warmth.
To be able to put them on easily, choose ones with a zip down the side.
After skiing, make sure they have warm shoes that are waterproof with an insulating sole, to keep those little toes warm and dry.
Remember to bring the right socks too: high, warm and not too thick so they don't compress the feet.
The best accessories for a family of adventurers.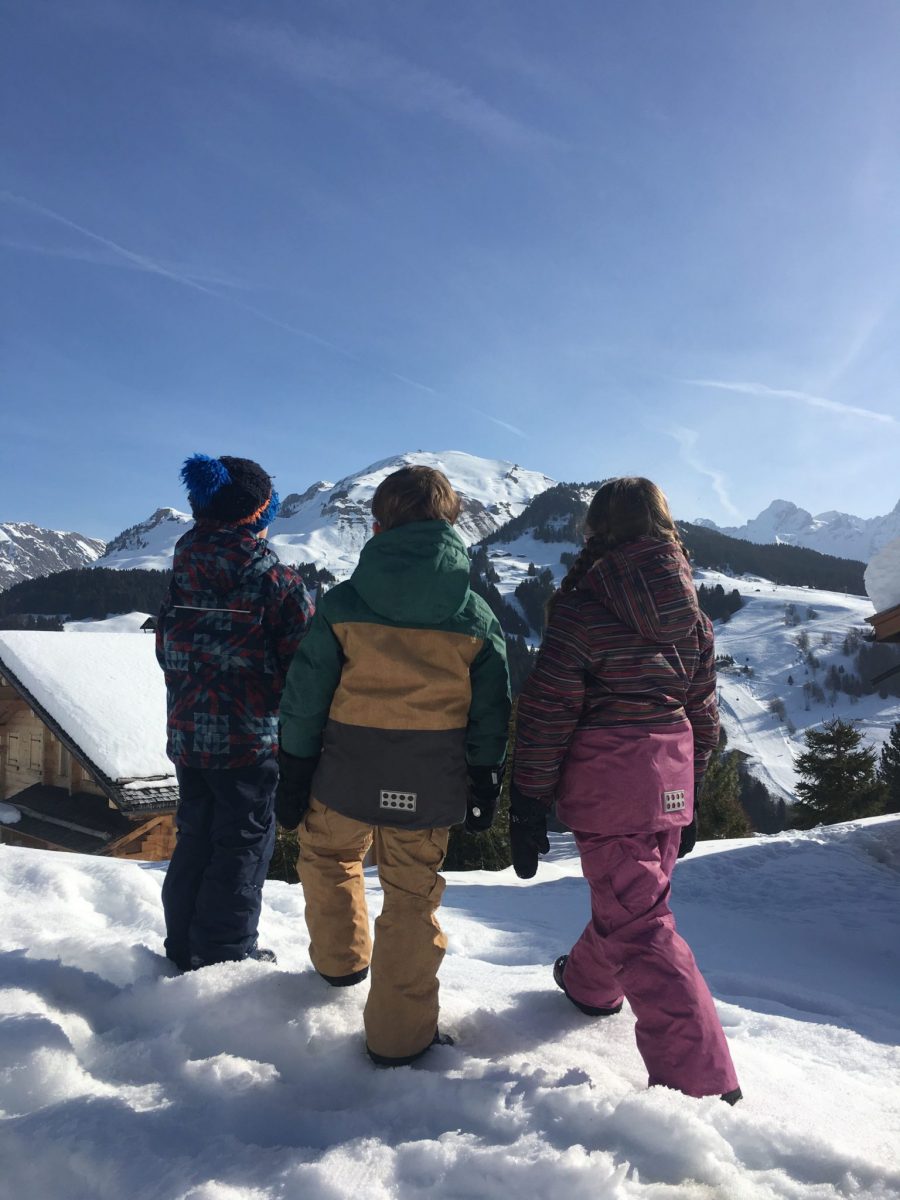 Here's what you should pack in your bag and take everywhere with you, in the winter, and even all-year-round.
In high altitudes, the sun's rays are less filtered and they are made even stronger by the reflection on the snow. Sun cream is an absolute must.
Choose a high factor (50) and reapply it regularly. Don't forget the lip balm too to protect and hydrate your lips.
To keep your neck nice and warm, a snood is the perfect accessory.
Little snacks are always a good idea, opt for items that won't get squashed: a reusable squeezable pouch is a must-have!
A hot drink is perfect for getting your energy back when you stop for breaks: take a thermos flask with you.
In case of accidents, make sure you have a small first aid kit (bandages, blister plasters, arnica cream, paracetamol, etc.) and a survival blanket.
And for going on walks with a baby, a baby sling is perfect, with an adapted jacket, to make sure both your baby and you are warm and comfortable.
That's it, you're ready to set off on your adventures in the great outdoors, for an unforgettable holiday!
Advice from

Marie & Fred from "Les Petits Baroudeurs"

lespetitsbaroudeurs.com